Birkenhead Lake
Advisories
UPDATE: August 27, 2021 – PaddleSport Rentals at Birkenhead Lake is now closed for the season due to staffing shortages.
UPDATE: Service fees payable in cash. Debit / Credit payments are unavailable in the campground due to lack of cellular coverage.
About Birkenhead Lake
Birkenhead Lake Provincial Park is located 90 km north of Whistler. To get there, follow Highway 99 north from Whistler. In Pemberton follow the signs to Mount Currie and then to D'Arcy. The turnoff to the park is 33 km from the turnoff to D'Arcy. The park is 17 km from this point on a good quality, loose gravel road.
The park includes old growth forests, sub-alpine and alpine environments. Birkenhead Lake is right beside the campground and there are several other small lakes in the park. The park protects important habitat for a variety of wildlife, including spotted owls, mountain goats, black bears and grizzly bears.
Birkenhead Park offers the serenity of wilderness camping with the convenience of vehicle access. The Lake is great for fishing, complete with a boat launch. Fish for rainbow trout, dolly varden, kokanee and whitefish. Hiking and mountain biking are popular activities on the network of trails in the park and beyond. The lake is clear and fairly warm; great for swimming.
Note: Please check for the status of catch and release for fish identified above.
For more information about Birkenhead please visit the BC Parks website.
Visitor Services
Firewood is available for purchase from the Park Attendant.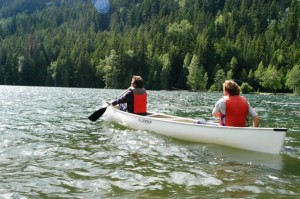 Canoes are available for rent on a first come, first serve basis. Please see a Park Attendant for all inquiries. Full day rental is $69.
Birkenhead Lake Rates and Fees
CAMPSITE FEE

Drive-In – per party, per night
22.00
Drive-In (Senior – Shoulder Season Only) – per couple, per night
11.00
PARKING FEES

Second Vehicle (Drive-In) – per party, per night
11.00
Second Vehicle (Drive-In – Senior – Shoulder Season Only) – per couple, per night
5.50
VISITOR SERVICES

Sani-Station
5.00
Firewood
1 for $12 or 3 for $32
TOTAL NUMBER OF SITES

Vehicle Accessible Site
91
Walk In Sites
n/a
TOTAL NUMBER OF RESERVABLE SITES

Vehicle Accessible Site
46
Walk In Sites
n/a
OPERATIONAL DATES

Full Service
May 1 – Sept 30
PARK LOCATION
PARK FACILITIES
Activities
Canoeing

Cycling

Fishing

Hiking

Pets on Leash

Swimming

Wildlife Viewing

Windsurfing

Winter Recreation
Facilities
Boat Launch

Camp Fires

Drinking Water

Picnic Areas

Pit or Flush Toilets

Sani-Station / Dump

Vehicle Camping

Walk in / Wilderness Camping

Wheelchair Access