Group Events
To host a wedding, race, or other group gathering in one of our parks, please email or call us in advance at info@seatoskyparks.com or 604-986-9371.
Freshwater Fisheries | Learn To Fish
Presented by Gofish BC.
Fishing fun for kids 5 – 15 and their adults. In one hands-on session, you'll learn where, when, and how to catch fish. All equipment is provided. Parent supervision is required.
Free Program! No registration required.
Alice Lake, Alice Lake Provincial Park Day Use Area
July 7, 6:00pm – 8:00pm
July 8, 10:00am – 12:00pm
August 11, 6:00pm – 8:00pm
August 12, 10:00am – 12:00pm
Cultus Lake, Maple Bay Campground Amphitheatre
June 30, 9:30am – 11:30am
July 7, 9:30am – 11:30am
July 14, 9:30am – 11:30am
July 21, 9:30am – 11:30am
July 28, 9:30am – 11:30am
August 4, 9:30am – 11:30am
August 11, 9:30am – 11:30am
August 18, 9:30am – 11:30am
August 25, 9:30am – 11:30am
WildSafeBC
The WildSafeBC Community Program. works to reduce conflicts between wildlife and humans and the community safe. The program uses a multi-faceted approach to increase community knowledge with regards to local wildlife and human-wildlife conflict issues and this includes:
Door-to-door outreach
WildSafe Ranger presentations for school-aged children
Wildlife awareness and safety presentations
Bear spray workshops
Electric fencing support
Booths at community events
WildSafeBC Bare Campsite Program
And more!
To learn more about WildSafeBC visit www.wildsafebc.com
Community Astronomer – Bill Burnyeat
See one of BC Parks longest running programs and learn about constellations, the difference between a planet and a star, what happens in the night sky, and what it all looks like through a telescope. This program will hopefully resume in 2022.
Summer Camps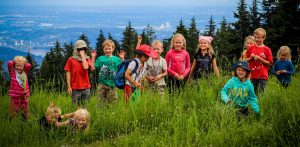 Mt Seymour Eco-Adventure Camp offers experiential summer programs for kids that incorporate fun, education, self-awareness, skill development, and meaningful connections to nature and the environment. Programs take place on the top of Mt Seymour – the perfect place for the ultimate nature experience!
At Mt Seymour, we believe that nature is an essential ingredient in the healthy and holistic development of all children. We re-introduce kids to a simpler, more connected way of life where they are encouraged to engage their senses to the fullest and delight in the beauty and teachings of the old-growth forest. We are proud to offer a technology-free and commercial-free nature immersion camp experience, no Ipads, video games, trading cards, or Netflix! Kids develop practical skills and confidence through guided challenges and discoveries while developing a deep reverence for the natural world.
Making fire by friction
Learning edible & medicinal plants
Exploring natural mysteries
Tracking wild animals
Building survival shelters
Discovering the language of the forest
Learning earth-based crafts, stories, songs, and more
For camp dates, rates and details visit mtseymour.ca