Sea to Sky Park Services Ltd. is a park facility operator for the provincial parks located along the Sea to Sky Corridor and in the Fraser Valley. We are committed to providing park visitors with quality campground and day use park facilities and preserving the legacy of BC Parks. In 2010 BC Parks honoured Sea to Sky Park Services with the Park Facility Operator of the Year award.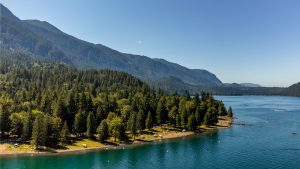 Sea to Sky Park Services has been successfully operating BC Parks campgrounds and day-use areas in the Sea to Sky Corridor and Fraser Valley since 2003. Sea to Sky Park Services' sister company is Mt Seymour Resorts located in North Vancouver.
A number of services have been added to our parks over the years in hopes of enhancing our visitor's experiences. Some of these services include travel trailer rentals at Chilliwack Lake and Cultus Lake along with Olympic Legacy Cabin rentals at Porteau Cove. Canoe, kayak and SUP (stand up paddleboarding) rentals and lessons are now offered at a selection of parks including Birkenhead Lake, Alice Lake, and Hicks Lake. Ice and firewood sales are available in most parks; as well as ice-cream, and concessionary cafes and vending at Cultus Lake, Porteau Cove, Alice Lake and Chilliwack Lake.
Our Mandate
As stewards of BC's parks,we provide memorable recreational experiences with the highest service standards and respect for conservation values.